Read below the correspondence between Aruban Boycott Member, Richard (our God to letter writing!) and the Netherlands State Secretary for Home Affairs and Kingdom Relations.

The Hon. Ank Bijleveld-Schouten
State Secretary for Home Affairs and Kingdom Relations
Ministerie van Binnenlandse Zaken en Koninksrijkrelaties
Postbus 20011
2500 EA Den Haag
The Netherlands
Dear Madam Secretary:
In a recent news article you were quoted as saying that the Netherlands has done "everything possible" in the case of Natalee Holloway, missing in Aruba since May 2005.


As an American concerned about this tragedy, I find this statement frankly astonishing. I therefore wish to submit for your consideration some additional measures that the Netherlands could undertake, particularly since, I understand, Aruba has handed over to it jurisdiction in this case:


1. Help provide funding for the search offshore Aruba. I have never understood why the financial burden for this mission should be the responsibility of the family and of American supporters and volunteers. Texas Equusearch, as you are aware, has carried out efforts in this regard. Before funding was exhausted, it had identified a number of sites of particular interest. Since the initial search was made possible by American generosity, perhaps the Dutch government could assist with the investigation of an obvious crime that took place in Aruba.


2. Refer to the Dutch body responsible for legal propriety the behavior of Paulus van der Sloot, who continues to work for the Aruban government despite having provided contradictory explanations for his statements and behavior at the time of Natalee's disappearance. As you are aware, the Aruban government itself overturned his request for additional "damages" following his arrest on these grounds. One would think that this prima facie impropriety would suffice for disbarment; while apparently it does not on Aruba, the Dutch bar may take an interest.


3. Investigate the activities of Jan van der Straaten, chief of police on Aruba at the time of Natalee's disappearance and a known friend of Paulus van der Sloot. It was van der Straaten who said he knew that Natalee was dead "because I've seen the evidence and you haven't"; to my understanding, none of this evidence has been produced. That alone casts suspicion on his statement. Any full-scale investigation of this tragedy must include the sworn testimony of van der Straaten; it is inconceivable that no such testimony has yet been demanded.


4. Natalee's father, Mr. Dave Holloway, said in his book "Aruba" that narcotics detective Dennis Jacobs (after asking "How much money have you got?") warned him that drugging of drinks at Carlos 'n' Charlies was known to occur. One presumes that Aruba, where American tourism at the time accounted for 80 percent of the economy, would have some interest in protecting foreign visitors. Yet apparently this situation was tolerated. Perhaps the Netherlands might investigate this, as well as why a narcotics detective was assigned to a missing-person case.


5. The testimony that various persons in the Netherlands have already provided might be reviewed. In one case, a person tied to the main suspect, Joran van der Sloot, was said to be unable to cause harm to her because he was homosexual. The logic of this statement is elusive.


6. Aruba has said that it has given jurisdiction over this case to the Netherlands. That being so, perhaps as a gesture of good will, attorneys for Natalee's family might be allowed to inspect the Aruban police files. I believe that such access now is allowed only if the case is closed.


7. A review of security tapes from the casino where Natalee was seen in the company of Joran van der Sloot would be in order. It seems that parts of those tapes were made public over a period of time, but the full tapes apparently have not been released. In one shot, a person with a strong resemblance to Paulus van der Sloot appears to be addressing Natalee. Aruba has said that that person was an (unnamed) cook on the island, but the visual identification of that figure with van der Sloot is persuasive. Certainly the Netherlands could resolve this question.


8. The family previously announced a reward for information leading to a solution of this case. Perhaps the Netherlands could contribute to such a reward and help publicize it.


I also wish to remind you of the case of Amy Bradley, an American who in March 1998 vanished from a cruise ship as it was docking in Curacao. The previous day, her ship had stopped in Aruba and certain crew members were urging her to go with them to Carlos 'n' Charlies, the same bar from which Natalee vanished. It is not known whether common factors or persons were involved in the two cases, but photographs, sightings, and other evidence strongly suggests that Amy remains alive, in a situation of duress. Meanwhile, Curacao seems as indifferent to the family's plight as is Aruba towards Natalee.


Should you be interested, I will gladly suggest many more ways in which the Netherlands could act. I send these few merely to show that your statement that the Netherlands has "done everything possible" is anything but accurate. As I write this letter, a news story says that Dutch scientists are testing a pill that erases painful memories. No such pill exists for the families of Natalee Holloway or Amy Bradley, nor does any pill exist that, in the absence of new initiatives, will convince Americans that the Dutch government is devoted to uncovering the truth and prosecuting the guilty in these cases.


Respectfully,

(Richard)


cc: Royal Netherlands Embassy to the United States, Washington, D.C.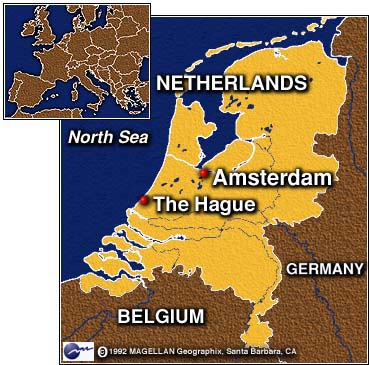 Dear (Richard),
Thank you for your letter of February 16th 2009 concerning the disappearance of Natalee Holloway with suggestions for further investigation.


Within the Kingdom of the Netherlands, Aruba is an autonomous country and is responsible for justice affairs in Aruba. The Netherlands provide assistance whenever requested by the Aruban authorities. I am of the opinion that the Netherlands have provided in this case all possible assistance. For example the case has been extensively reviewed by a joint Dutch-Aruban police team. Unfortunately the case has, so far, not been solved. However, investigations are still ongoing.


THE STATE SECRETARY OF THE INTERIOR AND KINGDOM RELATIONS,
on her behalf,
The director for Kingdom relations,
/s/ J. H. Gerritsen
Ministry of Interior and Kingdom Relations
The Hague, The Netherlands