*Again, thanks "Karo" for the update and wonderful pictures. You have all made a difference!



Meetings for the travel convention were between 9:30 and noon. We set the banners up in new locations this morning. Many were able to see them as they drove to and from—or near—the Hilton. The tra
vel agents themselves were coming and going on tours of the French Quarter and had to pass by the banners…


About 12:30 we moved our efforts to the French Quarter, where there were organized tours for the attendees. The Quarter also was crowded with tourists and locals, as is usual on the weekends.



Grass had talk
ed with a woman who runs the horse and carriage tours through the Quarter, and she was persuaded by him to allow us to place signs on the back of 3 carriages for one hour. That enabled many pe
ople to see the signs as they
walked or rode through the Quarter. The carriages are quite visible. Jamie and I rode in one of these 3 carriages….and even were able to pass out a few brochures as the carriage stopped at several points along its route.
All in all, we considered the weekend efforts a success. Many have not forgotten Natalee. Many were reminded she still is missing. Many showed great interest in the case. And hopefully, many travel agents got the message that Natalee is still missing, so Aruba is NOT a safe place to travel. There even were some brochures brought into the Hilton. We believe the Aruban delegates were well aware we were there!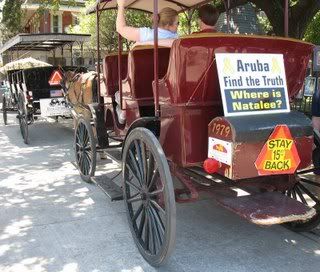 (Source)