**I want to personally thank
"Natalee's Freebirds"
for their hard work, extensive research, dedication to finding answers, questioning scenarios and "conclusions"; and bottom line...never giving up in the quest of finding JUSTICE FOR NATALEE.
Too Little Too Late, Or Bait and Switch?


Many questions have been raised about the vehicle Natalee Holloway was last seen in - the Silver Honda Civic owned by Deepak Kalpoe.

It seems there was a concerted effort made to possibly remove or dispose of evidence pertaining to Miss Holloway's demise from that car.

It had been reported that the vehicle in question was inspected in the early days of this investigation - wherein the FBI told Natalee's parents that blood was present in the vehicle.

Considering these suspects could never have anticipated the timely arrival of Natalee's desperate family on the island of Aruba, their immediate efforts to cleanse this car don't appear to have been enough to remove this damaging evidence.


June 01 2005
A high school's senior trip to Aruba went terribly wrong for a local family. The trip ended without Natalie Holloway returning. The 18-year-old went to a nightclub in Aruba with a man she befriended while on the trip. She was last seen in the man's car leaving the club at about 1 a.m. Monday. The man, who lives in Aruba, has been interrogated

and his car is in FBI custody
.
http://www.nbc13.com/news/4553156/detail.html
8:00 am Tuesday, May 31, 2005 Beth arrives at Bubali Police Station and Deepak's car is parked in the back. (p. 58 Loving Natalee)


With this in mind, we then re-visited what has been made available about the disposition of this Honda Civic in the hours and days after Natalee disappeared.
It is highly unlikely Deepak Kalpoe cleaned his car in the middle of the night, and then dropped it at Automotive Enterprises the next night out of sheer coincidence.



A neighbor saw the vehicle being cleaned in the early morning hours of the same night Natalee went missing



"In the early morning hours of Monday morning (May 30th), Deepak methodically and uncharacteristically cleaned his silver Nissan, claiming that it had "ants" in it..."

(source: CIVIL SUIT filed in New York)

In the night time hours of May 30th, Deepak's vehicle was deposited with Automotive Enterprises - a time during which Deepak told law enforcement he was at work
Because I had worked in the past on the car of Deepak,

he approached me to keep z/n its car for him in my garage in the "Automotive Enterprises established" at Wayaca for him

. I must note that I in the past the car of Deepak had twice left his car in my garage when I worked on it. With the car of Deepak I mean the grey four door private car of the make "Honda Civic".
On your question

if Deepak had told me how he knew that the missing American little girl Natalee Ann HOLLOWAY on Monday, 30 May 2005, in the night time hours

, had only her identification document (drivers license) and an amount of US $50, in her possession, I answer you the following:
At absolutely no moment did Deepak tell me how he knew that missing little girl only had her identity card and US $50, =, in her possession. You must ask it to Deepak.


(Witness Statement given by OF Osman August 6, 2005)
By 8:00 am the morning of May 31st,
Deepak's vehicle was located at the Bubali Police Station

Does the above activity tell us the following may
have occurred with Deepak's vehicle?


Deepak attempts to clean his blood stained vehicle himself in the middle of the night, within mere hours of Natalee going missing?



That attempt did not remove the blood from the vehicle, and a second attempt at cleaning the vehicle was done by Automotive Enterprises when Deepak took his car there the night of May 30th?



When neither of those attempts at evidence removal worked, and the FBI had found blood in that vehicle during an inspection conducted by June 1, 2005, we then have to pose the question:



Whose vehicle was impounded
and forensically tested on June 9, 2005?

Below is a photo of the front of the Kalpoe home, taken on June 9 2005 after the two brothers Deepak and Satish had been taken in by Aruban law enforcement, and
after
Deepak's silver Honda Civic was purportedly seized by authorities.
Whose silver Honda Civic is that pictured outside the Kalpoe home after another Honda Civic was seized by authorities?

The following are pictures of Deepak Kalpoe's Honda Civic -
note the number of spokes in the wheels: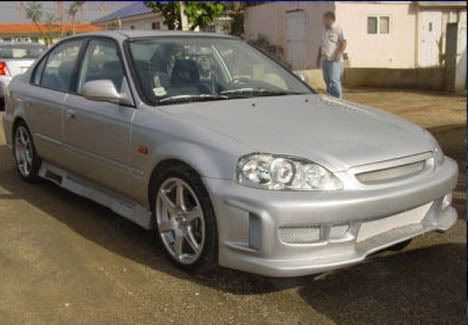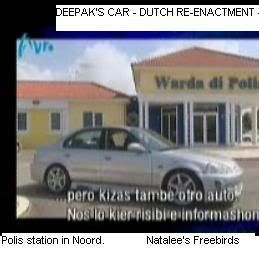 Here now is the Honda Civic Aruban police seized in the early morning hours when Deepak and Satish were arrested - note the difference in the number of spokes in the wheel from Deepak's Honda Civic: