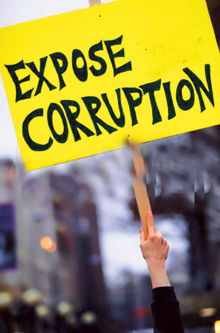 WILLEMSTAD — The Dutch government is checking the possibility of an investigation performed by the Transparency International into Aruba and the Netherlands Antilles. This appears from answers on a list of 46 questions of the stationary committee for the Netherlands Antilles and Aruban Affairs (Naaz) with regard to the letter of State secretary of Kingdom relations Ank Bijleveld-Schouten (CDA) about the status of the policy on the Netherlands Antilles and Aruba.
The world wide non-governmental organization Transparency International is focused on restraining international and national corruption and targets for a world without corruption. Corruption is viewed by the organization as 'misuse of entrusted power for own profit'.
Besides considering an investigation against corruption, Bijleveld wants to raise the matter of an investigation regarding the experience of corruption with the Antillean and Aruba government. 
"Corruption and integritity are recurring subjects which I regularly discuss with the governors of the Netherlands Antilles and Aruba. During future conversations I shall bring up the carrying out of an investigation regarding the experience of the population with reference to corruption", the State secretary answering the question if she 'will stimulate the governors of the island to investigate the corruption and the influence hereof on the politics so that actual statistics become available."
Priority

"Improvement of the quality of government and the tackling of the corruption are prioritities in my policy", says Bijleveld. "I follow three routes: 1. I make demands in the process. In that framework the islands must formulate and implement a code corporate governance. In this code it is, amongst other, regulated how to associate with assigning governors. Also now supervision will be applicable to various tasks. The Cft will e.g. supervise on the budget position, performance and responsibility. I offer support. 3. I talk to the governors about their responsibilities and if necessary inform the Public Prosecutor. If these three steps are not sufficient, then there is also the possibility to discuss the integrity of the government management in the Government Council of Ministers."

Transparency International

Transparency International consists of several regional organizations (also in the Netherlands) and has its centrum in Berlin (Germany). The organization has several work area's: humanitarian, corruption undermining and disturbs development and leads to increasing of violation of human rights; democratic, corruption underming democracies and in particular the achievement of development countries and countries in transite-phases; ethnic, society; practical, corruption undermining the functioning of markets and refrains people of the advantages hereof.